Emergency Plumbing Services
Got a leak? Broken water heater? As you plumbing professionals, we understand how unpleasant and inconvenient a plumbing problem can be. That's why our standard operating hours include Monday through Saturday from 8:00 am to 8:00 pm with no additional charge during regular business hours. Plus, our team of technicians are available for emergency plumbing service calls seven days of the week on our Emergency Hotline: 1-561-391-1048.
Underground Sewer Repair
A properly functioning main sewer line should never back up. If you are experiencing constant drain stoppages, you may have a problem. Obstructions and pipe deterioration are the main reasons for sewer line backups. Obstructions could be from a partial or completely collapsed pipe due to root penetration from trees or shifting soil from ground or sub surface disturbances.
If you have a sewer drain problem that seems to re-occur periodically, we can help you get to the bottom of the problem by performing a video inspection of your sewer drains. We can tell you before someone starts digging up your yard if your problems are from a corroded, damaged or broken pipe, root growth, a stoppage in the line, or a foreign object clogging the pipe. Plus, we can determine the exact location of the problem.
Call us today and schedule sewer camera technician to come out and evaluate the condition of your main sewer line. We will give you all the options from partial sewer line spot repair to a full line replacement. Instant financing is available.
Plumbing Leaks & Repairs
Your home's water piping system carries both hot and cold water to different fixtures throughout your home. Without it, your home would not be a safe environment. Water is needed to drink, clean, wash, flush, and to do many other things we sometimes take for granted in our daily lives. When one of the pipes in your water piping system experiences a leak, it can disrupt everything and also cause damage to the property in your home as well.
If you're a home-owner and you've experienced a leaking water pipe in your home, you know that it can be a serious problem and can result in water damage to your property and possibly even health concerns for you and your family if not attended to in a timely fashion. It is always best to address a water leak as soon as you notice it in order to prevent a small problem from becoming a big one. If you do experience a water pipe leak, call Art Plumbing, Air Conditioning & Electric right away, we offer Emergency Service, 7 days a week.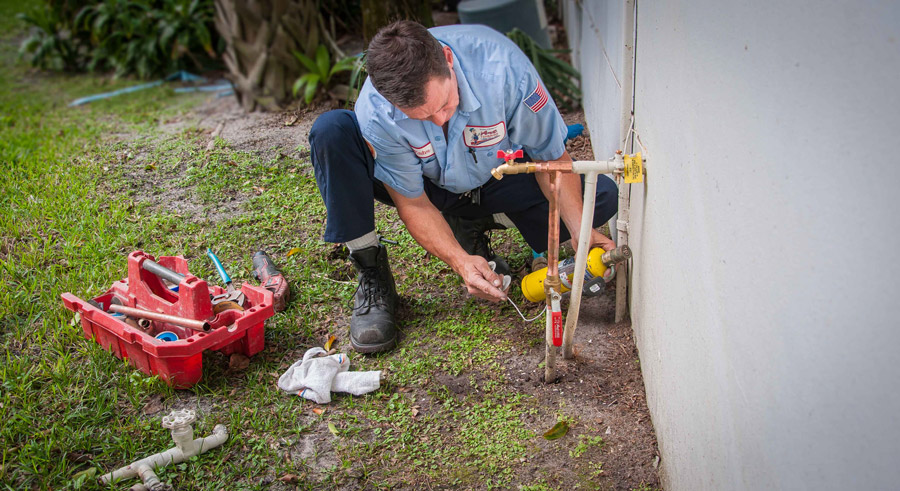 Slab Water Leak Detection & Repair
A slab leak or any number of water leaks can waste thousands of gallons of water in the average South Florida household each year. With growing drought concerns and ever-increasing water rates this is a major concern. Not to mention, leaking pipes can damage your home and may even become hazardous to your health.
So what's a slab leak? In slab type home construction, a thin, reinforced concrete slab is laid on the prepared ground instead of digging a foundation into the ground and lining it with concrete. This is typical in South Florida.
In the case of slab foundation construction, the plumbing for the home is run under the concrete slab. The plumbing can remain trouble-free for decades, but shifting in the soil and aging of the plumbing materials can ultimately cause some failure in the system, leading to leaks that become apparent over time.
The location of the leak must then be located and the pipes repaired or replaced. In some cases, breaks in the slab itself may be at fault. These small defects must then be located and repaired.
A slab leak can cause a number of troubling symptoms in your home that indicate you need the services of an experienced plumber:
Increasing water bills. If your water bill is much higher than it normally is, it could be a sign that you have a leak under the slab foundation.
Damp odors in the house. The leak may cause your home to suddenly develop a damp, moldy odor from the constant wetness.
Wet swampy areas in the yard. The flow of water from under the slab may accumulate in areas of the yard that stay constantly wet and spongy.
Shifting of the foundation. You may notice unevenness in the floor as the foundation shifts on the water-soaked soil.
In the past, the plumbers had to drill into the foundation to repair leaks under the home. This procedure often required tearing up the flooring and considerable amounts of mess in the house. However, today, new methods and technologies allow us to find leaks utilizing other methods.
For more than three decades, Art Plumbing, Air Conditioning & Electric has been diagnosing and repairing water leaks throughout the South Florida area. Our expert technicians constantly receive the best training and use cutting edge technology to quickly and effectively locate and repair your leak. Call us today for your peace of mind.
Drain Care Products
Clogged drains are never fun, but whatever you do, don't reach for an over-the-counter, harsh, dangerous, liquid drain opener. These products are not only caustic and dangerous, but they can cause some serious damage to your plumbing system over time.
Since 1976, the plumbing industry nationwide has trusted Bioclean®, one of the only ACTUAL drain cleaners on the market. Bioclean is a mix of living enzymes and bacteria that thrive on things like hair, food particles, etc., and it's harmless to humans and pets.
The mix of bacteria in Bioclean is very similar to the bacteria found in your intestinal system, and instead of just opening a hole in the clog, the bacteria clings to the inner walls of your plumbing system and multiplies in this food rich environment. Within an hour after pouring the bacteria into the drain, the bacteria begin to eat their way into the waste that has accumulated on the sides and top of the drain pipe. This is their natural food. They digest the waste and spread throughout your system, cleaning it completely.
Consistent use of Bioclean can take a problem plumbing system and make it a free flowing. For more information, or to get your supply of Bioclean, Call Art Plumbing, Air Conditioning & Electric today!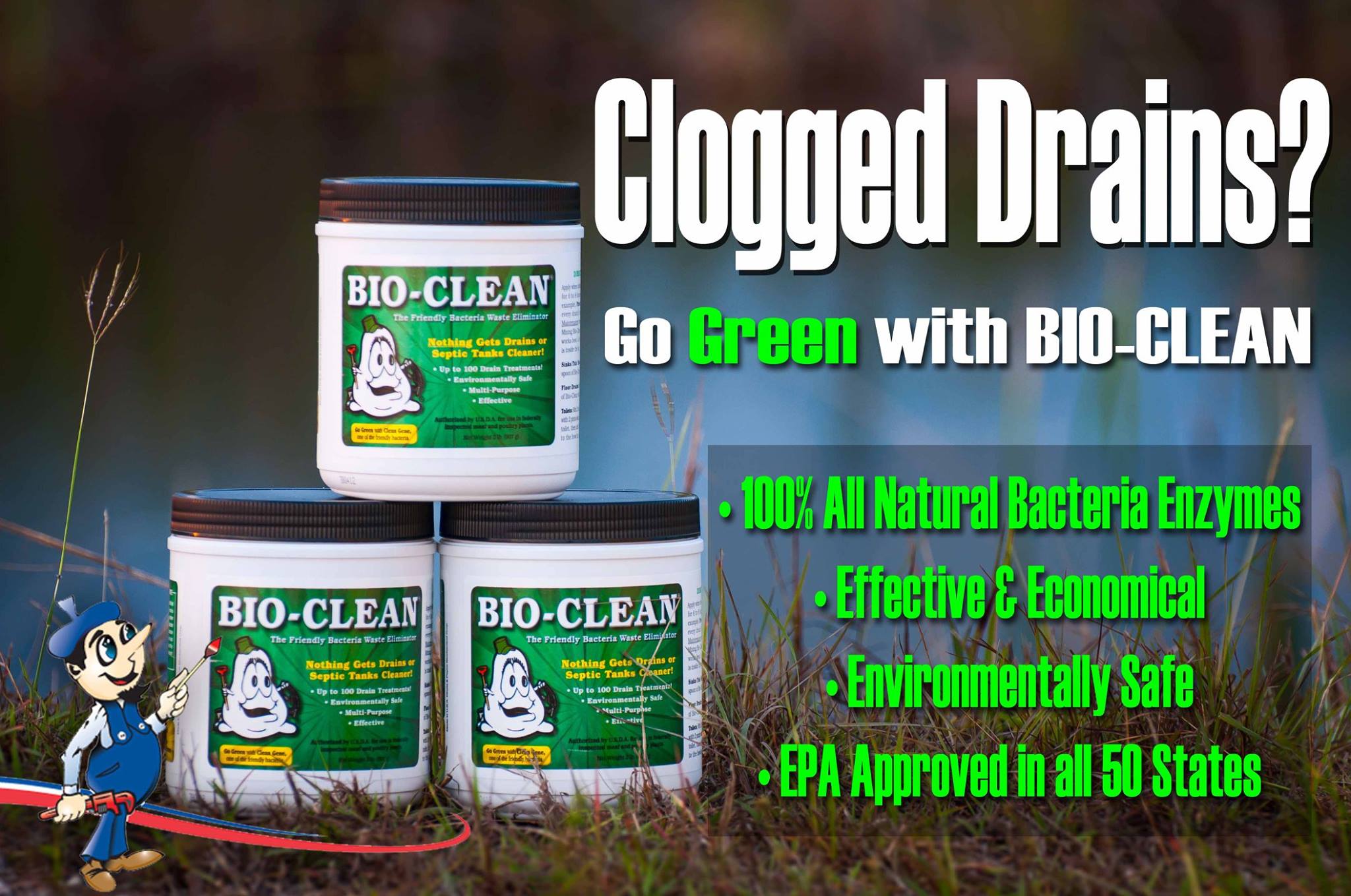 Flood Protection Systems
PipeBurst Pro™
Automatic Water Protection System
Choose PipeBurst Pro™ for peace-of-mind protection from costly water damage.
Ideal For
Residence
Vacation Homes
Rental Properties
Condominiums
Pool Houses
Apartments
Potential Leak Points
Sinks
Toilets
Spigots
Dish Washers
Refrigerators
Floor Drains
Hot Water Tanks
Washing Machines
How PipeBurst Pro Can Benefit You
Ability to minimize or eliminate water damage concerns
Saves thousands of dollars in unbudgeted cost from water leaks
Allows for an a la carte approach to custom fit each facility
Water protection
Freeze protection
System monitoring
Remote shutoff capability
Provides water usage data
How the PipeBurst Pro System Could Work for You
Each unit can operate as an independent entity
One VIP can cover two independent units
Water detection can come from FloMeter, Sensors, or a combination of both
FloMeters and TickerValves can cover individual untis or can zone out sections of the building
Use ionleaks.com to monitor and control all systems in the complex
ionleaks.com Overview
Monitor & control your water anywhere
Remote notifications via SMS, E-mail, or automated call
Added peace of mind
Internet connection required
A Solution For Every Situation
Looking to install in a commercial or residential building?
PipeBurst Pro has the largest variety of valve sizes on the market.
Need to install the valve outside?
Pipeburst Pro TickerValves are the only actuators rated BOTH completely waterproof and ignition safe.
Worried about "water hammer?"
PipeBurst Pro is the only manufacturer to offer a SloFlo open process.
Want to know exactly where the leak occurred?
PipeBurst Pro, with uniquely serialized FloodBugs and ionleaks.com pinpoints the problem so you don't have to.
Live in an area where blackouts and brownouts are common?
Pipeburst Pro keeps your home protected with an integrated Battery Backup.
Want to monitor your water consumption?
Pipeburst Pro FloMeter with ionleaks.com monitoring is at your fingertips wherever you are.
Leave the house and forget to turn off the water main?
PipeBurst Pro with ionleaks.com lets you control your system from anywhere in the world.